Emotiva TA-100 Stereo Integrated Amplifier/Preamp/DAC/Tuner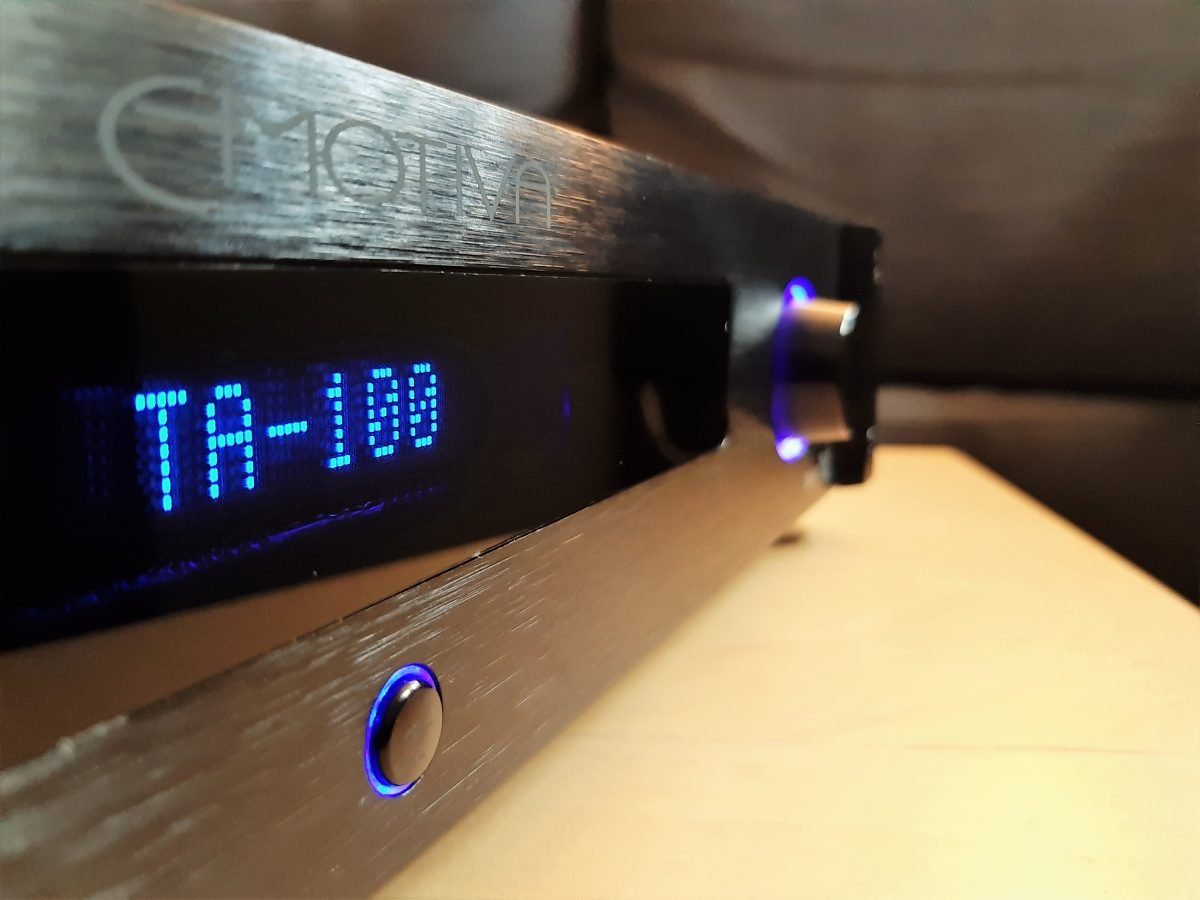 Providing fine build quality and performance at a $399 price point, the Emotiva TA-100 is a stereo integrated amplifier, preamp, phono stage, DAC, and tuner.
While the TA-100 is not an industrial design statement, it's simple and functional. The unit is controlled from the front volume/function digital rotary knob and input buttons or the small, plastic remote. Navigation for some of the deeper settings like bass and treble will require time with the manual, which is clear and easy to follow.

The rear input/outputs and speaker binding posts are a testament to its high-grade parts and rugged construction, that belies its price.
Integrated amplifier
Rated at 50 watts RMS per channel into 8 Ohms and 90 watts RMS per channel into 4 Ohms, the fine capabilities of the class A/B amplifier were proven with a pair of vintage Mission Model 70 MK2 bookshelf speakers. This is not an amplifier with a big, muscular low end. Instead, bass guitars, kick drums and pipe organs sound drier and tighter. There's a hint of effervescence in the mids that lends itself to guitars, pianos, strings and vocals. The top frequencies have natural smoothness and extension without sounding pushed. Tested with a set of higher-end, more-difficult-to-drive Lipinski L-707 monitors, the presentation was acceptable, but when compared to a much more expensive Cello (Mark Levinson amplifier) the TA-100 lacked some scale, detail and impulse response.

Notable feature: Through its line-level outputs, the TA-100 can be used as a tuner/preamp in conjunction with a separate power amp.
DAC
With USB, S-PDIF and optical TOSLINK digital inputs, the built-in digital to analog conversion is clean and linear; fine for general music listening and movies. Tested against a Benchmark DAC-1, we found the TA-100 DAC to be slightly leaner in the bass region below 100Hz and having more sheen in mids and upper mids.
Headphone amplifier
The headphone output uses a 3.5mm port. Serious headphone enthusiasts might prefer to use an external amp, but the TA-100 headphone section is not lacking. In our tests, it was able to provide a decent level of power and finesse into most headphones. Perfectly suitable for most listeners.
Phono stage
The phono preamp includes both MM (moving magnet) and MC (moving coil) impedance settings. For testing, we paired it with a Rega P2 turntable and Dynavector 10×5 moving coil cartridge. Up against stand-alone Creek OBH-1 and Yaqin MS-22B phono preamps, the TA-100 phono stage performed just as well in every area. Its noise floor was low, frequency response was uniform, transients were strong and musical.
FM Tuner
With the provided antenna, the FM tuner had good reception and signal stability. Changing stations was a bit tricky to figure out, as it was a nested setting.
Summary
The Emotiva TA-100 exceeded our expectations. For its attractive price, we recommend it to the consumer looking for an integrated amplifier with above-average fidelity, functionality and craftsmanship.