STAX SR-L500MK2 Electrostatic Earspeaker and SRM-D10 DAC/amplifier
In 1960, Stax introduced the SR-1, the world's first electrostatic headphone. Today STAX continues on their electrostatic tradition with an array of headphones and drivers. Many audiophiles and professionals enjoy and rely on STAX's uniquely clear and pristine sound signatures.
STAX provided Pro Audio Times with review units of the SR-L500MK2 earspeaker and SRM-D10 DAC/amp.
STAX SR-L500MK2
The $792 SR-L500MK2 is STAX's mid-level Lambda series earspeaker. As with all STAX Lambda systems, the build feels somewhat delicate but craftsmanship is high grade. The steel ear cup hooks on the SR-L500MK2 instill more confidence than the plastic ones used on the less expensive SR-L300. The ARC adjustable headband is secure. Ear cushions are made of comfortable, quality grade synthetic leather.
When describing the sound of the SR-L500MK2, there's almost no need to break it down into sections of the frequency spectrum because everything is presented with standout performance and lucidity. The low end does not extend into subterranean depths but you don't miss it because its character is effortless and musical–with a tight, fast, lively quality. The lower midrange is similarly well done without a hint of cloudiness. The midrange has an all-encompassing sensitivity and openness, where vocals and instruments are rediscovered with a sense of life and excitement.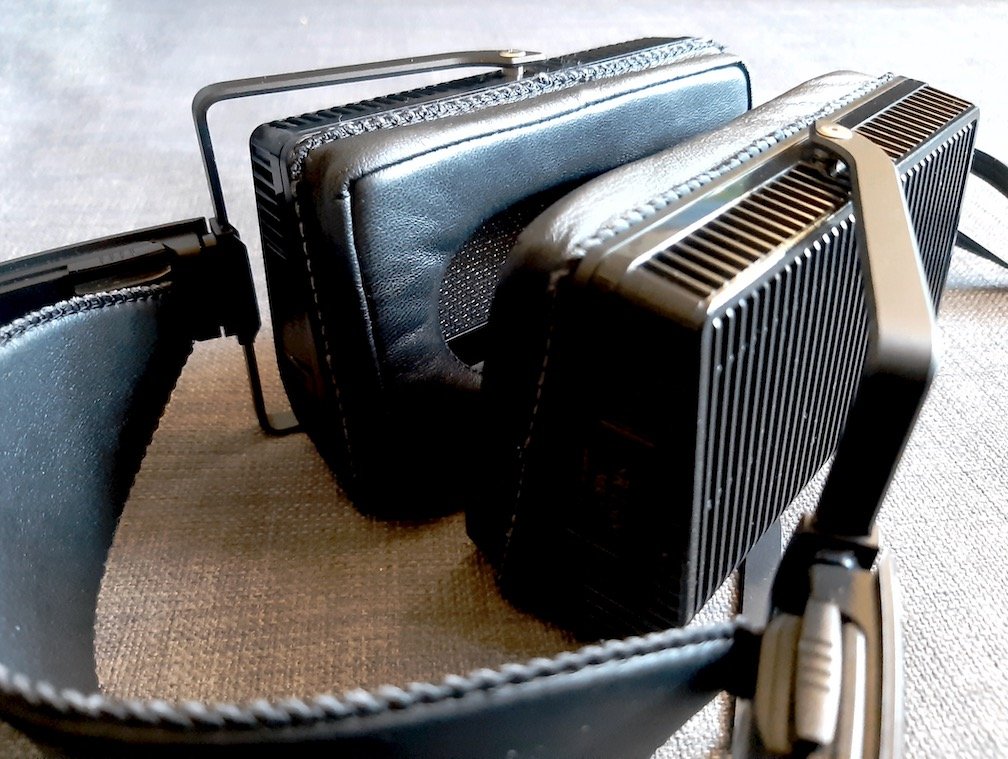 Moving into the upper midrange, the presentation is meticulously and pleasantly detailed. Percussive micro dynamics, vocal idiosyncrasies, and subtle timbres of acoustic instruments are revealed with a sense of realism and luminosity. The treble is the STAX electrostatic experience–that is to say, it is silky, airy and crystalline without sounding harsh or metallic. People who prefer darker signatures might find STAX systems to be a bit intense in the upper mids and treble, but it's an exquisite treble that is arguably among the best available.
STAX SRM-D10
The $899 STAX SRM-D10 is a compact, portable, battery-powered digital to analog converter and electrostatic amplifier. It has both Micro-USB digital and 3.5mm analog inputs. It uses STAX's proprietary 5-pin PRO bias output connection. Note: This DAC/amp will not work with regular headphones.
The DAC section uses an ESS ES9018 chip and handles both PCM and DSD (up to DSD128) audio. The amplifier has a maximum output rating of 200Vrms.

At a solid 450g, the build quality and industrial design of this unit is impeccable. The volume control knob is perfectly textured to the touch with a wonderfully fluid rotary action. Potentiometer gain is smooth and linear.

Tested with both SR-L500MK2 and SR-L300 earspeakers, the SRM-D10 plays music with a sense of accuracy and finesse. Compared with an older desktop SRM-252II driver/amplifier, the SRM-D10 is a bit more focused and analytical, with finely contoured transients and a minuscule lift to the midrange that highlights instruments like acoustic guitar and snare drums. The SRM-252II has a subtly warmer, rounder sound signature with a little more elbowroom and power.

While we can't say how loudly the SRM-D10 will drive STAX's other models, with the SR-L500MK2 and SR-L300, it provided more than enough clean level for our tastes.
With its seemingly indestructible construction, Museum of Modern Art level of aesthetics, faultless ergonomics, battery portability and leading edge fidelity, we give the SRM-D10 an enthusiastic recommendation.

As a pairing, the SR-L500MK2 and SRM-D10 offer a wonderful entryway into the pleasures of STAX electrostatics.